The Realistic Appeal of Wood-Look Tile in Bountiful, UT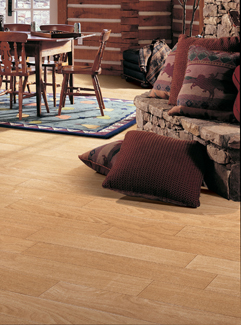 Would you like to have the natural beauty of wood along with the practical benefits of tile when flooring your home? This is possible with wood-look tile in Bountiful, UT, from Mike & Sterling's Flooring America. We're always on the lookout for high-performance flooring that offers our customers both beauty and functionality.
Walk into our showroom to see what wood-plank porcelain tile looks and feels like. Our sales and design experts are happy to share their extensive product knowledge with you, as well as consult with you about design considerations. This gives you the opportunity to compare brands and consider options.


The Beauty of Hardwood Reproduced in Tile
There are many rooms in your house where you would welcome the warmth and elegance of natural wood. However, solid hardwood plank is not practical in rooms with running water or high humidity. This doesn't mean it's impossible to have the look of wood; you can do by installing wood-plank ceramic tile.
Made of durable ceramic, these tiles come in rectangles, rather than squares, to add to the realism. Not only do they look like wood planks, they install like them, too. Our showroom is full of samples, so you can see the grain and whorls you love in wood replicated on ceramic and porcelain tile. Two manufacturers that produce realistic wood-look tile include Surface Art and Florida Tile.


Installing Wood-Look Tile in Rooms with High Humidity
Our porcelain wood tile is ideal for those wet rooms in the house, such as the bathroom, kitchen, and basement. These are rooms where you typically see tile because the frequent use of water and high humidity are constant concerns. However, you want surfaces in these rooms that are easy to keep clean, as well as resistant to water. Think of how handsome and practical wood-look tile is in these spaces.
Do not limit ceramic wood tile to just wet rooms in your home. The beauty and practicality are appreciated in every room. Tile offers a clean surface free from allergens and other pollutants, which makes it a healthy flooring choice, as well as one with unlimited decorating options, especially one of those options is wood.


Precision Required for Installation
Let us schedule professional installation for your wood-plank ceramic tile. Working with tile involves precise measurements and accurate cutting for the tile must fit into the room with only space for grouting in-between. Mistakes lead to wasted product and additional expense. Our technicians excel in efficient and durable installation.



Contact us today to enjoy the look of ceramic wood tile your home. We proudly serve customers in Bountiful, Ogden, Layton, Kaysville, and Farmington, Utah, and the surrounding areas.