The Beauty & Versatility of Tile Flooring in Bountiful, UT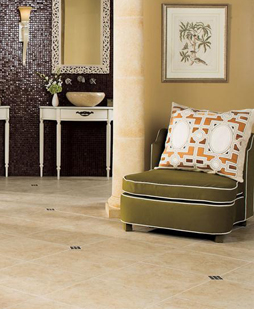 Tile flooring in Bountiful, UT, is valued for its versatility. At Mike & Sterling's Flooring America, we have tile options that are perfect for any room in your house. These range in variety from style, size, color, and type. The type refers to the material, which includes:
Ceramic
Porcelain
Mosaic
Marble
Travertine
Glass
This flooring surface empowers you to get creative. You can mix and match colors or sizes, create a border or a pattern, or even use tile on the wall. With the variable nature of tile, you can use this flooring option to create a focal point in a room or a lovely backdrop for fine furnishings.


Providing You with Brand-Name Products
We carry a number of the top name brands from respected manufacturers in our showroom. Two of our favorites are Surface Art and Florida Tile.
Surface Art is a manufacturer that produces a range of tile products from porcelain to ceramic to natural stone and glass mosaic. They have tile that looks like wood or metal, as well as tile for backsplashes and walls.
Florida Tile is a manufacturer that offers a number of different lines, providing customers with everything from classic looks in porcelain and stone to tile with the rich look of wood and mosaic tile in small squares and hexagons. This manufacturer believes in tile that inspires creativity, so your flooring is uniquely yours.


Specialty Tile for Stunning Impact
Of course, we have the traditional classics that include porcelain and ceramic, but we have specialty tile, too. You can choose mosaic tile to create a backdrop that is every bit as beautiful as artwork. These tiny pieces of tile fit together in a pattern that offers high impact.
Then, too, there is tile in different materials. Glass is well suited to the bathroom with its luminous appeal and water friendliness. Marble is gorgeous in the kitchen as veined countertops that remain cool to the touch, while travertine is wonderful for living room flooring in its soft natural tones. Our experts are here to help you choose tile that is right for you.


Professional Installation Protects Your Flooring from Damage
Entrust your tile installation to the professionals in our flooring store. These trained and experienced technicians have the technique and the tools to place tile so that it adheres securely to the mortar. This protects the individual tiles from lifting and moving, which leads to damage. Our professional installation ensures the beauty and durability of your tile flooring.



Contact us today to chat with our experts about the type of tile that complements your décor. We proudly serve customers in Bountiful, Ogden, Layton, Kaysville, and Farmington, Utah, and the surrounding areas.