Engineered & Solid Hardwood Flooring in Bountiful, UT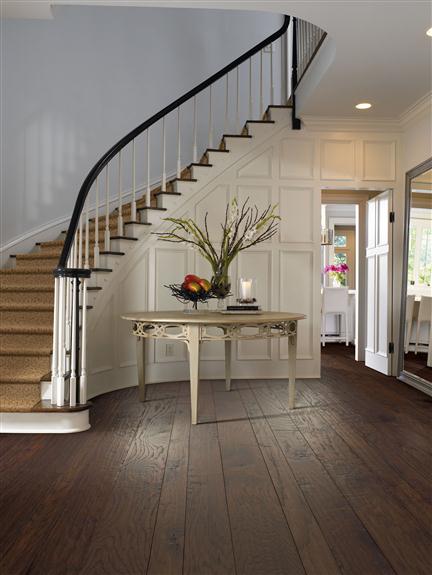 Invite the luxury and practicality of hardwood flooring in Bountiful, UT, into your home. The place to find your hardwood floors is Mike & Sterling's Flooring America showroom, a well-organized space that offers you options in type, brand, style, and finish. Whether you want engineered or solid hardwood, we have the floor coverings that elevate the style and value of your home.
Hardwood is always in fashion for the beauty and warmth of real wood enhances any decorating style. You can choose from planks or strips in a handsome assortment of different species, colors, and stains. Turn to the experts in our showroom for the wood flooring that works with your design preference and lifestyle requirements.


The Versatility of Engineered Wood
A popular selection for many of our customers is engineered wood. This is similar to the solid wood planks or strips you see in many historic homes. Solid wood consists of planks all milled from a single board of hardwood, while engineered wood has been improved during the manufacturing process with layered construction.
On the very top is a veneer of the wood species of your choice. This is what you and your guests see when looking at your engineered wood floors. Underneath the veneer are multiple layers of high-density fiberboard, which have been bonded together for strength and versatility. What this does is make a wood floor that reacts very little to moisture. This means you can install engineered wood flooring throughout the house without worry. This includes rooms with running water, high moisture content, or temperature changes. Because of this fact, you can use engineered wood in the kitchen or basement.


We Provide Professional Wood Flooring Installation
After you've chosen the wood flooring that you want for your home, work with our technicians for hardwood flooring installation. We follow the manufacturer's recommendations, as well as apply industry best practices and our years of experience to ensure the beauty and longevity of your flooring.
Professional installation is essential for solid and engineered wood floors as the wood must remain in place to avoid damage. Engineered wood comes in a variety of installation options from glued to floated to stapled, depending on the product. Our technicians install each plank or strip with precision and an eye for beauty, so you can enjoy walking on this flooring for many years to come.



Contact us today to choose the types, species, and finish for your new wood floors. We proudly serve customers in Bountiful, Ogden, Layton, Kaysville, and Farmington, Utah, and the surrounding areas.